Long time ago I liked Flash, so I made two Flash games. All graphics made by Marius.
ROBO Worms version 2 (10/2002)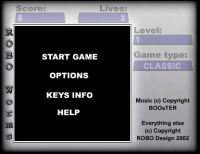 This game is based on old snake games. Two game modes: classic and enhanced; music by BOOsTER; configurable grid size and some more.
Download the game (Windows executable, 2.2 MB).
ROBO Invaders (05/2002)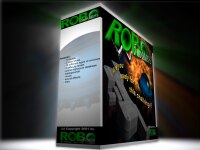 This was a big game for us. It took several months to make it: lots of graphics, lots of code, lots of options.
Music by BOOsTER and L.A.W.
There's a game console where you can enable the cheats menu. Type in the following:
/dcc roboi 
/pls enable master cheats menu, stuff and goodies